Team collaboration is written in Sketchboard's DNA. Everything that you have in Sketchboard is visible for the whole team, and that makes sharing easy and straightforward.
But sometimes one single team is not enough. Perhaps you have multiple projects, working with different people, and you need to restrict access for those separately, and that is when Organization comes into the picture.
Organization plan is the most powerful and flexible way of using Sketchboard. It allows you to have unlimited private teams. Organization administrators can administer Sketchboard teams without belonging to the team, e.g. by IT people.
Organizations have some extra visibility options, on Organization you can define read-only users, which are not charged. You can have up to 5 read-only users per team.
We wanted to bring Organization plan available for more teams who seeks to use the flexibility of multiple private teams. There used to be a minimum requirement of 15 users, and that is now lowered to 5 users, that is when it usually starts to make sense to create multiple teams.
Each team sees their own visual board index page.

Switch Currently Active Team
When working with multiple teams you need to switch teams, click your current team that is available on the top left of a board

Team can be switched using a shortcut Cmd+K or Ctrl+K or access it through the menu.
Menu > Switch Team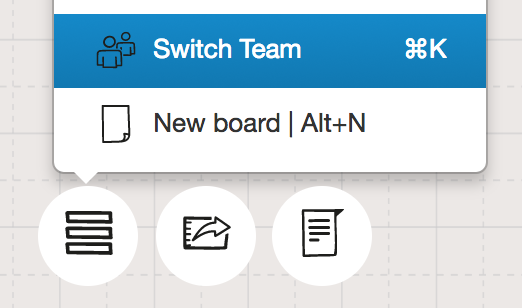 There has been a small change on shortcut keys on team switcher page. Shortcut changed from ALT+number to a plain number key. You can see the number switcher below the team box.

Recently Sketchboard made a change that private new boards are by default with team visibility. You can still modify the visibility to private personal if needed to design or prepare ideas personally. Public board option is available as well. Public boards are visible for everyone on the internet.
How to Upgrade a Team to an Organization
Organization functionality is available only through a subscription. In case you have an existing team subscription you can upgrade your team from:
Menu > Add Teammates > Manage Subscription > Upgrade Plan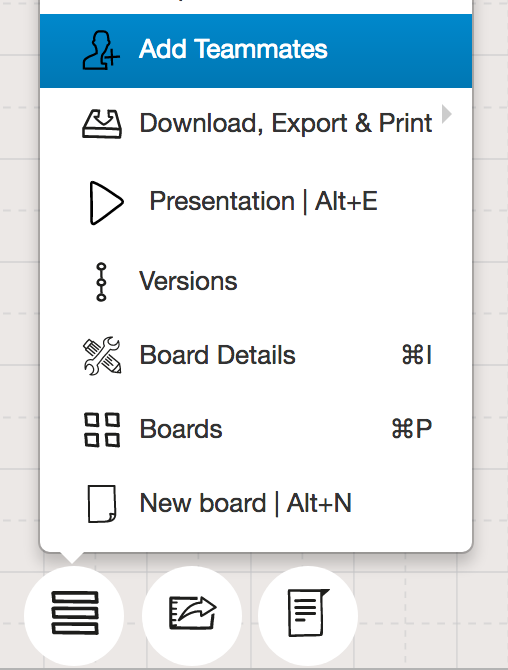 You can find more details about the upgrade process from here.