Is public board visible outside my team?
Yes, public boards are visible to anyone. Public boards are shared just using the board link.
There are anonymous public boards and team public boards. Anonymous public boards can be viewed and edited by anyone. Anonymous public board becomes team public board when logged in user access the board and takes the board ownership.
Team public boards can be viewed by anyone, but can be edited only by teammates.
How can I create free plan private board?
Private board is create to you by default. Select "My Boards" and first board listed is your private board. Private board can be personal or shared privately with your teammates.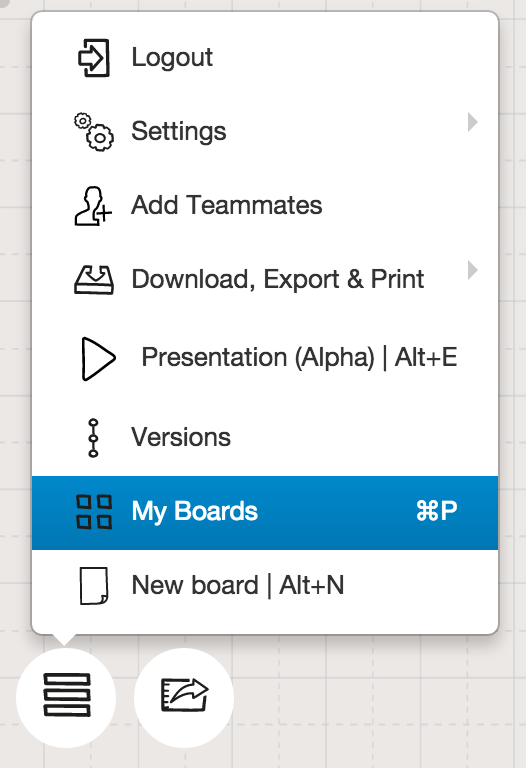 | | |
| --- | --- |
| | Private Personal Board |
| | Private Team Board |
| | Public team board |

Educational and Non Profit Discount
Note, You are automatically on FREE plan after the sign up. Free plan includes 3 editable boards up to 5 users in a team.
Sketchboard offers an educational and a non-profit discount for premium plans. Premium plans include e.g., unlimited private boards and possibility to upload images.
Sketchboard Education and non-profit discount for all premium plans is 85%.
E.g.
Personal plan
$7 * 0.15 = $1.05 per month for 1 user
Starter plan
$14 * 0.15 = $2.1 per month for 3 users
To apply for the educational discount, you need to send an email from your educational/non-profit email address.
Apply for an educational discount
Updating a Plan
Sketchboard.io uses Stripe prorated costs on plan switch. Current plan unused remaining time is credited and new plan remaining time is added to the invoice.
For example, say your current plan cost is $10 per month. Your billing period starts 1st of each month and you switch plan in the middle of the billing cycle. In that case, you have already paid $10, and used half of the current billing cycle.
When you switch to the new plan, with a cost of $25, the unused portion of the previous plan results in a credit of $5. The cost of the new plan for the rest of the billing cycle will be $12.50. Therefore, the total prorated cost of switching from the cheaper plan to the expensive plan is $12.50 - $5 = $7.50. This amount will be added to the next invoice and next invoice is $7.50 + $25 = $32.50
When you switch subscription plans in the middle of a billing period to plan with different billing frequency. For example monthly to yearly. You will be charged immediately with prorated costs.
Adding new users to an organization. How is that billed?
Organization plan starts from 5 users. New users are automatically added to your organization when you add new teammates to any of your organization's teams. Number of users in an organization is checked daily. One user can belong to multiple teams, but will be charged only once.
Team member invitations to an organization team are not calculated to as an active user. Only when user has accepted an organization team, user is part of the organization.
When you add more than 5 different users to your organization, a new organization user will be prorated for the remainder of the current billing period. This is tracked automatically for you and added on your next bill.
Delete user from an organization
Sketchboard checks daily how many different users there are in the organization. When user is deleted from your organization you will have prorated credit in your next bill.
Note that minimum charge for organization is 5 users. If you need smaller plans you can choose separate team plans.
Storage space for organizations
Organizations' have more storage space. Storage space is calculated per user in the organization. For each user in the organization, storage space is increased with 1 GB. E.g. if you have 15 users in your organization your will have 15 GB of storage space for all your organizations' teams available for images and board versions.
Are there different roles for each person in my team and in organization?
Yes. The roles are the following:
Primary Team Owner - Anyone who creates a team becomes a Primary Team Owner. There can only be 1 per team, and they're the only person allowed to delete that team. They can promote Team Members to Team Admins.

Team Admin - They can invite new users/ eliminate existing users. They can also promote Team Members to Team Admins.

Team Member - The permissions for each Team Member are set by the Primary Team Owner or by the Team Admins. Team Members can edit and view all team boards.

Read-only Team Member - In Organization plans Team Members can be read-only and are not able to edit any boards.

Organization Member - They are part of at least one Organization team.

Organization Admin - They can add/ delete users in all Organization teams, even those in which they're not directly included. They may also change team members' permissions. They may also promote Organization users to Organization Admins.

Organization Primary Owner - Anyone who creates an organization becomes an Organization Primary Owner. They have all the same rights as the Organization Admins. There can only be 1 per organization and Organization Primary Owner cannot be removed.
Can I cancel my subscription? Do I get a refund?
Yes, you can do it through Sketchboard Service. Please make sure you do it before the start of your next subscription period, to avoid unnecessary fees.
Although your cancellation can be made at any time, Sketchboard subscription plans are prepaid and non-refundable.
Whenever you choose to cancel your subscription plan, you'll be redirected to a free plan at the end of your current subscription period.
Your Sketchboard subscription plan can be reactivated at any time if you happen to change your mind.
Why I can't login with my password
Password login doesn't work in case you have logged in even once using your Google account. From there on your password is managed by Google services.