Sketchboard supports three different ways to sign in.
Sign in with Google
Sign in with Password
Sign in with SSO
You can change your sign in type from the dashboard security menu
Menu > Security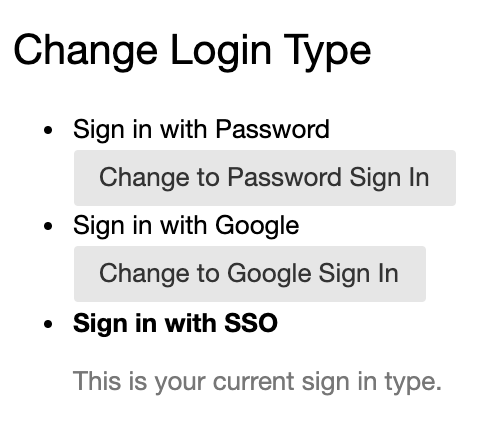 Switch to password or Sign in with Google
Sketchboard sends an email for you to confirm the change. In case you have signed in with password, you can also override that with sign in with Google, simply press Sign in with Google on log in page.
After you have enabled Sign in with Google, you cannot login with password any longer.
Sign in with SSO
Sketchboard supports SSO using SAML, here are instructions how to configure SSO on Sketchboard.
SSO is available for Organization subscribers. For existing Sketchboard users that want to change sign in type to SSO need to enable that explicitely. New sign ups that use SSO have automatically sign in with SSO enabled.
When sign in type has been change to SSO no other sign in methods work after that. To enable other sign in types, change the sign in type.
To switch your sign in type press Sign in with SSO. Sketchboard sends an confirmation email for you to complete the switch.
After enabling SSO, you can use your SSO provider dashbord to sign into Sketchboard or use Sign in with SSO login page.