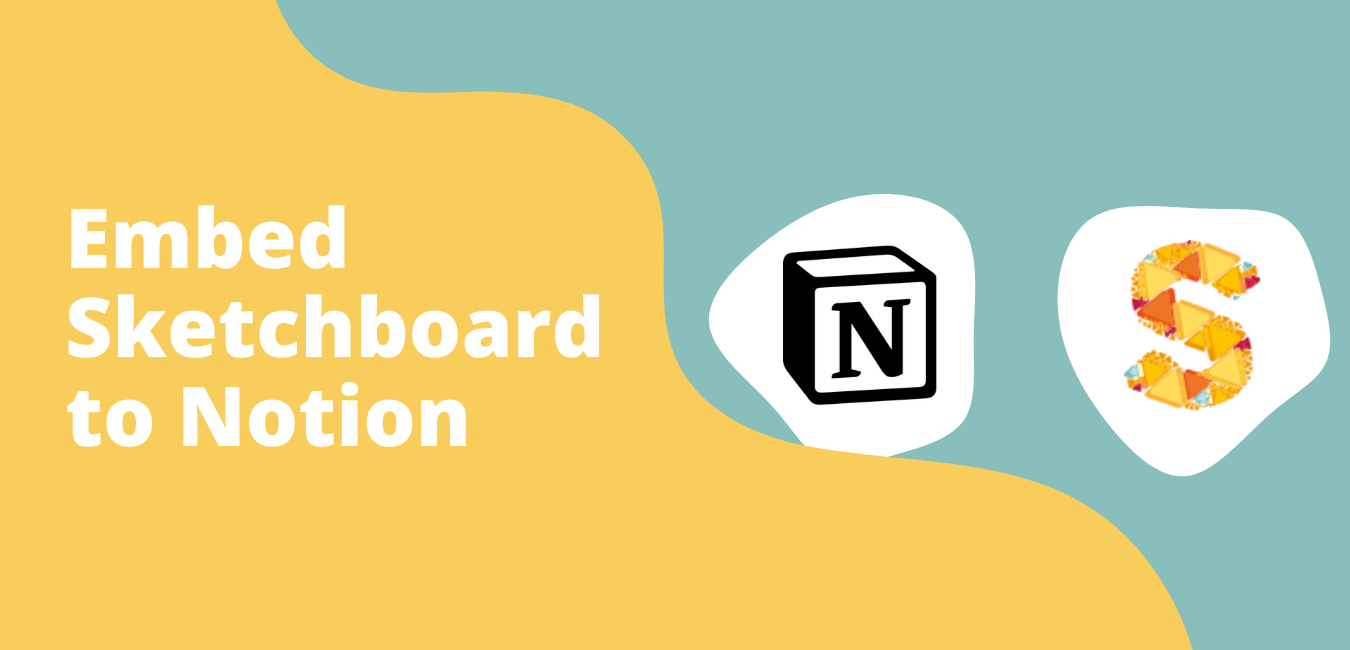 Embedding Sketchboard's virtual whiteboard to your Notion page is very easy. Bring your diagrams, notes, and relational databases together by integrating your Sketchboard's online whiteboard to Notion.
Why is Notion a great tool to boost productivity?
Notion is one of the relatively new rising stars of productivity focussed applications. The co-founder and CEO of the company, Ivan Zhao, describes Notion as "a customizable workspace that you can tailor to your brain and your needs". The flexibility of the tool created excitement for many productivity-focused users from all around the world, making Notion one of the most popular tools in recent years.
Notion's all-in-one productivity solution aims to bring many functional components together. You can use Notion for note-taking, documentation, creating relational databases, setting up a project management platform, and many other purposes.
Next level of visualization: Embedding Sketchboard to Notion workspace. As the notion community grows, the creativity of the use cases on Notion just exploded with many integrations, widgets, and templates. Here at Sketchboard, we decided to contribute to the Notion community with our two cents on how to boost up the collaboration experience with online whiteboards on Notion.
For at least more than a hundred years, it is very hard to imagine a learning or collaboration experience without some form of board or canvas. As technology and our needs evolved over the years, blackboards and chalkboards became whiteboards, and more recently, online whiteboards. The need for visualizing an idea in our minds has not changed. Although there are countless use cases for online whiteboards, some of the most common ones are creating mind maps, flowcharts, process maps, UML software diagrams, or product mockups.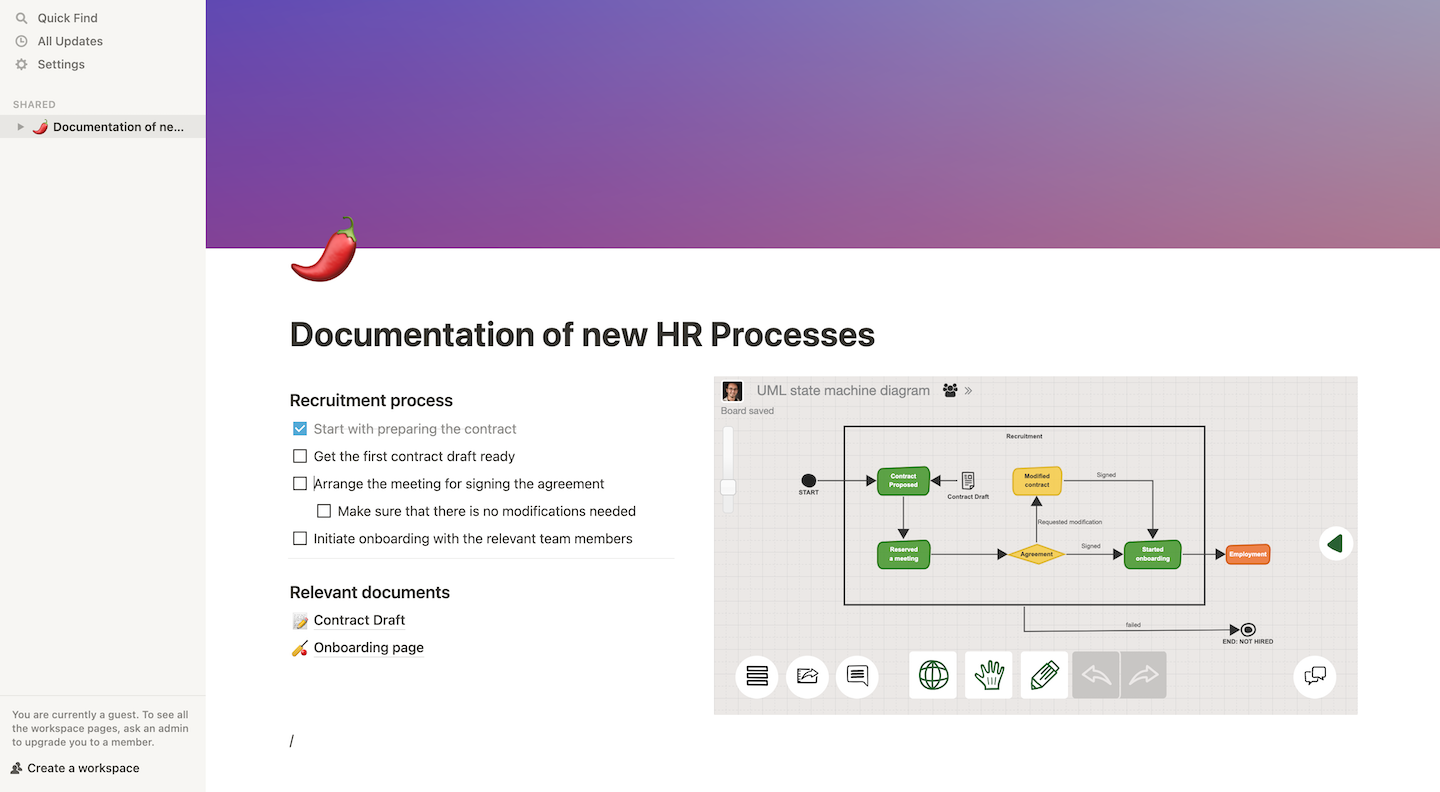 Combining Sketchboard's online whiteboard with a comprehensive productivity platform like Notion creates a big impact on the speed and efficiency of your team. Easily accessible diagrams and mind maps on Notion pages replace the frustration and burdensome conversations with efficient workflows. Using zoom-in and zoom-out functions helps you to focus on a particular part of an infinite canvas without losing perspective.
How to embed Sketchboard to Notion?
With the /Embed block by Notion, you can easily bring any of your publicly shared Sketchboard canvases to your Notion pages.
Go to your Sketchboard canvas you'd like to embed on your Notion page.

Copy the URL of your Sketchboard canvas
Example: https://sketchboard.me/jCF9yyB4inK#/

Paste the copied URL into your Notion page, select "Create embed" button.

Some things to keep in mind
The editable version of Sketchboard embed is only available when you use Notion on your web browser. To be able to make changes on your Sketchboard canvas, make sure you're signed in to your Sketchboard account on the same browser.

Your public boards can be easily embedded to Notion as read-only boards. If you're using Notion on the web browser, your Sketchboard teammates will be able to edit those boards.
What you can do with Sketchboard embed on Notion?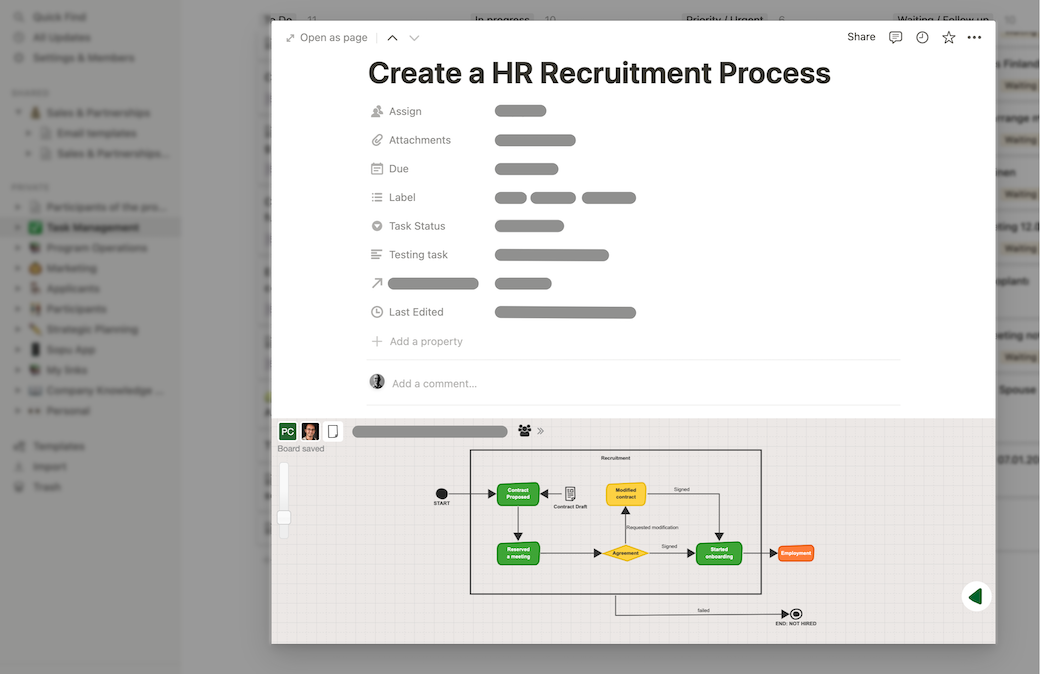 Document your processes for a smoother onboarding
If you're using Notion as a "company wiki" for your new employees to make their onboarding experience smoother, embedding Sketchboard's diagrams can provide great value. Visualize your fundamental business processes and embed them to the right Notion page. Check out Notion's "The essential employee onboarding checklist for startup teams" blog post to make sure you don't miss out on any details.
Enhanced ideation process with Sketchboard on Notion
Whether you're designing a software system or a product mockup, having all of the information you need on one notion page can make your life much easier. When you bring the online whiteboard to your Notion page, the creative processes become effortless for the whole team. Enjoy real-time editing on Sketchboard while you add your notes and comments to make sure all the information is gathered inside the same workspace.
Project management with Sketchboard's visual collaboration tool
Although there are countless ways of organizing the tasks and schedules of your project team, creating some kind of visual interface has proven to be quite effective. Fortunately, Notion provides very functional database views for project management such as board view and timeline view. A very useful way to increase the efficiency of your project management process is to embed Sketchboard diagrams and mind maps to the relevant task pages. This 3-click move can transform your project management page into the place where the real action is happening.