We are exited to announce Sketchboard initial integration with GitHub. Now you are able to upload diagrams directly from Sketchboard to GitHub. You can keep documentation and images on a same repository.
Example usages:
Create project intro with a diagram that makes it easier to get into the project. You can refer images from the repository README.md file
Have an overview project design at GitHub wiki
Update GitHub Pages technical blog with sketch diagrams
See e.g. lift-json component from Lift project. It has a great component intro with an image. Picture makes it much easier to understand (as a user) and how to work with the component.
Now with Sketchboard GitHub integration you don't need to leave browser to make updates to the documentation. Now your workflow could be following:
Sketch diagram at Sketchboard
Export whole diagram or parts of it to GitHub
Update README.md file at GitHub to refer just updated image. GitHub has a nice online editor.
Naturally GitHub keeps versions for image and you can even view the difference directly in GitHub.

GitHub Markdown syntax for images
Image on a same repository
GitHub markdown syntax to show images e.g. on README.md:
![My Diagram Image](images/relative/path/my-diagram-image.png)

Image on a different repository
![My Diagram Image]
	(https://raw.github.com/[user]/[repository]/[brach]/my-diagram-image.png)

Export to GitHub
In order to export diagrams from Sketchboard you need to be logged in. Currently Sketchboard GitHub integration works only on public repositories.
Steps to export
"Download" Menu => Select Export to GitHub
Login to GitHub
Select public repository where image should be uploaded
Select correct branch, path and name for the exported image
NOTE: Image name cannot contain spaces
NOTE: You can change exported image type, but GitHub doesn't display svg and pdf files
NOTE: Only selected elements will be exported or all (if no selection)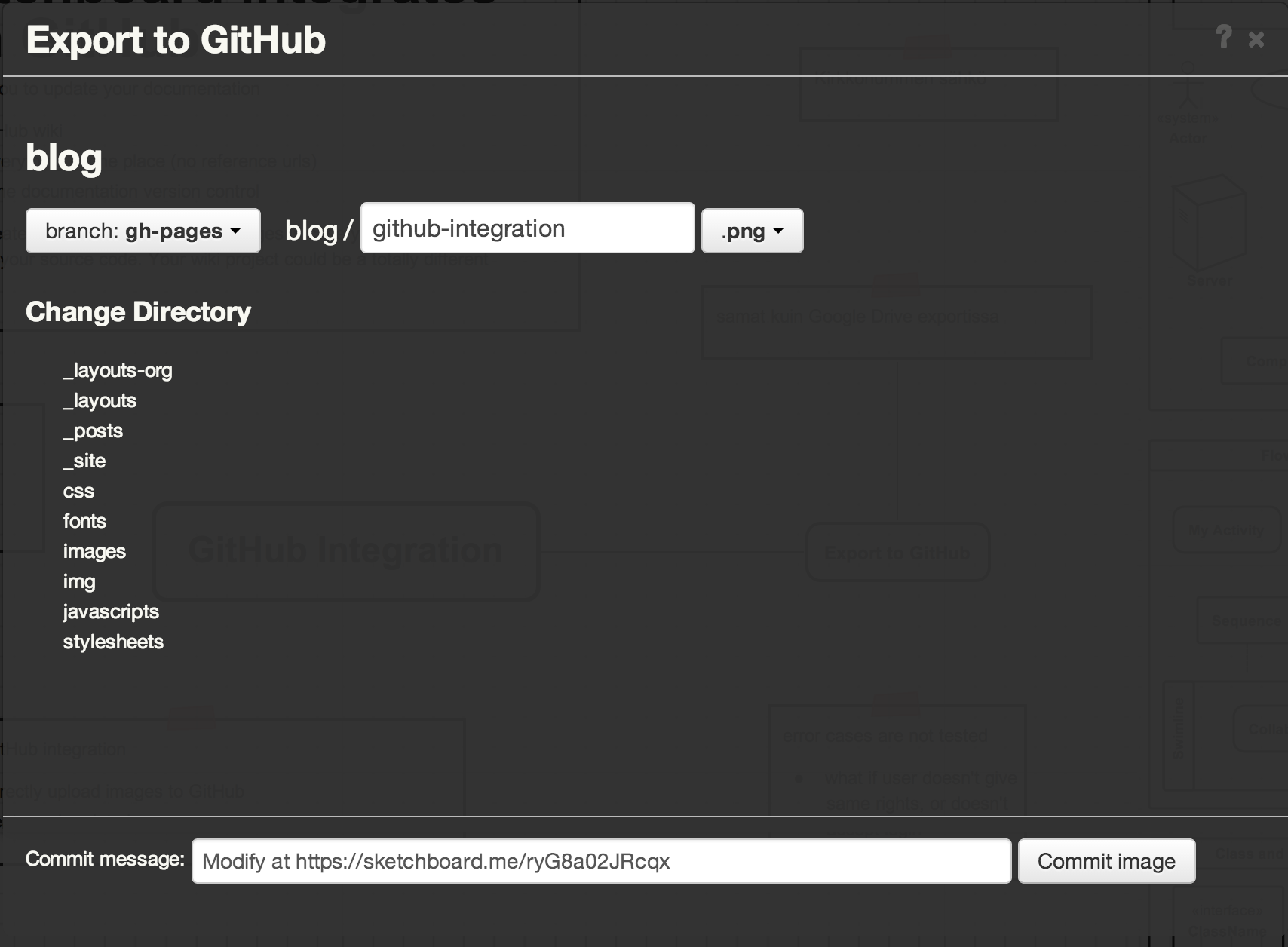 In case image already exists in the selected path, content is just update. Sketchboard automatically fills commit message with a back link, so you can update diagram later.